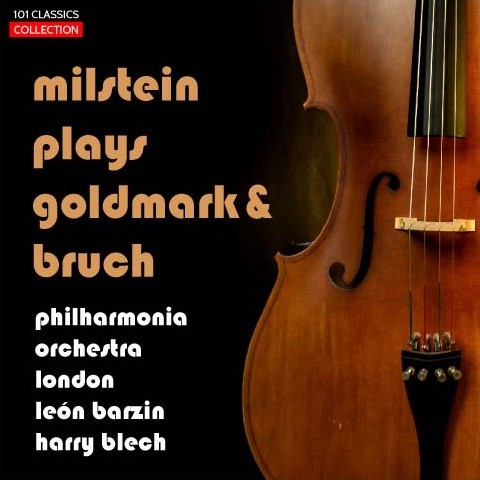  
GOLDMARK & BRUCH Violinkonzerte - Nathan Milstein, Philharmonia Orchestra London, HARRY BLECH & LEON BARZIN
Musik-Album im MP3-Format
Gesamtlänge: 54:30 min
MP3-Bitrate: High Quality (320 kBit/s)
Bildnachweis: Photo by Dominik Scythe on Unsplash
Spätromantisches Meisterwerk
Karl Goldmark (1830-1915) war zu seinen Lebzeiten ein sehr populärer Komponist. Heute ist er vor allem durch sein Violinkonzert Nr. 1 in a-moll bekannt. Das Werk überrascht zu Beginn mit einer ausgedehnten martialischen Eröffnung durch das Orchester. Die Violine nimmt diesen dramatischen Impuls aber nicht auf sondern antwortet lyrisch und versonnen. Diese romantische Stimmung findet ihre Fortsetzung im langsamen zweiten Satz mit einer Fülle schöner Melodien. Im rhythmisch zugespitzten Finale zitiert der Komponist Themen aus seiner ungarischen Heimat, die dem Werk seinen besonderen Reiz verleihen. In Nathan Milstein hatte das Violinkonzert einen glühenden Fürsprecher. Seine Londoner Aufnahme mit dem Philharmonia Orchestra ist bis heute Referenz.
"But if you are after the Goldmark concerto, or if you collect violin playing of superlative quality, there is no question that this is the version to choose" (GRAMOPHONE)
"The composition is portrayed with the most moving of deliveries. Milstein's lyricaL violin work, and the dramatic efforts of the orchestra offer interesting collaboration on the romantic work. Splendid job of conducting from Harry Blech. The concerto has a bold beginning theme that is brilliantly captured by the expert Milstein. Another top flight classical entry from the diskery" (THE CASH BOX)
Mit achtundzwanzig Jahren gelang Max Bruch gleich ein großer Wurf ...
Bruchs erstes Violinkonzert überzeugt mit eingängigen Melodien und dankbaren Aufgaben für den Solisten. Der erste Satz ist praktisch das "Vorspiel" für das eigentliche Zentrum des Werkes, dem langsamen lyrischen zweiten Satz. In diesem zeigt der Komponist großen Einfallsreichtum beim Erfinden schöner Melodien. Der dritte Satz ist wesentlich temperamentvoller. Tänzerisch, mit einem Hauch "ungarischer Folklore" wirbeln Solovioline und Orchester bis zum effektvollen Schluß. Nach der ersten Aufführung 1866 verbesserte Bruch das Konzert noch mehrmals. In der überarbeiteten letzten Fassung von 1868 hat das Konzert seinen Siegeszug in die Konzerthäuser angetreten.
"In the Bruch, Milstein chooses a massively lyrical style for the opening fantasia, but relaxes into a really remarkable cantinena for the slow moment. His control of colour throughout this theme is musically expert an entirely convincing" (GRAMOPHONE)
GOLDMARK_Violinkonzert_Milstein
Data sheet
Komponist

Goldmark, Karl (1830 - 1915)

Edition

101 Classics Collection

Epoche

Romantik

Künstler

Nathan Milstein, Philharmonia Orchestra London, HARRY BLECH & LEON BARZIN

Werk

Violinkonzert in a-moll op. 28 & Violinkonzert Nr. 1 In g-moll op. 26