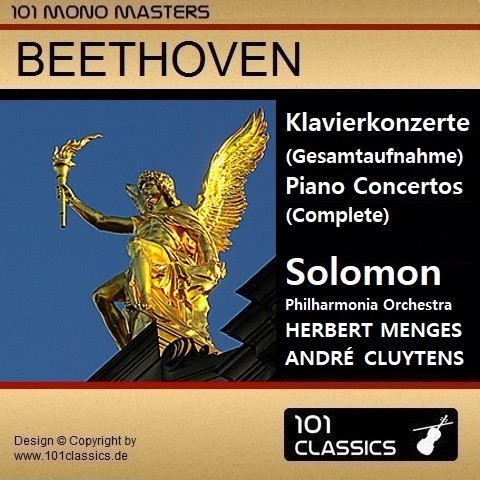  
BEETHOVEN Klavierkonzerte (Historische Aufnahme - REMASTER) - Solomon - Philharmonia Orchestra, MENGES CLUYTENS
Musik-Album im MP3-Format
Gesamtlänge: 2:49:56 h
MP3-Bitrate: High Quality (besser als 220 kbit/s)
Aufnahmen: London, Abbey Road Studios,1952-1956 / REMASTER 2020
Bildnachweis: lianem/Shotshop.com
Sinfonische Solokonzerte mit Orchester - Höhepunkte der Gattung Klavierkonzert
Vom ersten Klavierkonzert - noch stark von den Vorbildern Haydn und Mozart geprägt - bis zur epochalen Nr. 5. Diese Konzerte sind die wohl am meisten gespielten Klavierkonzerte der Klassik und gehören zum Standardrepertoire eines jeden Klaviervirtuosen.
"Here, with Menges, he's just as persuasive. He eschews the galvanic and declamatory in favour of an aristocratic explication of the solo line whereas in the Emperor this profile works even better. Here he is at something like his finest, vesting the slow movement with time-numbing beauty, refraining from externalised show in the outer movements, directing things inward with no less of force or weight" (MusicWeb International)
Klavierkonzert Nr. 1:
Beethovens erstes Klavierkonzert steht noch ganz in der Tradition Haydns und Mozart. Es überwiegen die einfach gebauten Themen und die Klarheit des Ausdrucks. Doch geht Beethoven über seine Vorbilder hinaus mit scharf akzentuierten Akkorden und einer stärkeren Dramatisierung der Abläufe. Klarinetten, Pauken und Trompeten erzeugen eine festliche und freudige Stimmung. Bei der Uraufführung 1801 in Wien spielte Beethoven den Klavierpart.
Klavierkonzert Nr. 2:
Ohne die Pauken, Klarinetten und Trompeten des ersten Klavierkonzerts geht es hier etwas weniger festlich zu. Trotzdem fehlt es nicht an kraftvollen Passagen, gespeist vor allem vom rhythmisch markantem Hauptthema des ersten Satzes. Der lyrische zweite Satz wird bestimmt von den üppigen Variationen des Soloinstruments. Die Uraufführung 1795 stellte Beethoven nicht zufrieden. Nach mehreren Umarbeitungen erhielt das Konzert 1801 seine endgültige Fassung.
Klavierkonzert Nr. 3:
1802 war für Beethoven ein sehr schwieriges Jahr. Er war gesellschaftlich isoliert und er war in Sorge aufgrund seiner bevorstehenden Ertaubung. Beethoven überwand diese Krise und schuf dieses leidenschaftliche und kämpferische Werk mit einem wunderschön lyrischen Mittelsatz. Trotz seines Gehörleidens spielte Beethoven bei der Uraufführung 1803 in Wien den Klavierpart.
Klavierkonzert Nr. 4:
Das Konzert beginnt mit einer Überraschung: Statt der bis dahin üblichen Einleitung durch das Orchester startet hier das Soloklavier mit zarten Tönen und gleich mit dem Hauptthema. So hatte das vor Beethoven noch niemand gewagt ! Der zweite Satz wurde von einer Sage aus der griechischen Mythologie inspiriert, in der der Sänger Orpheus (bei Beethoven das Soloklavier) mit seinem Gesang über die Mächte der Unterwelt (dunkle Themen des Streichorchesters) siegt. Langsam und leise tasten sich die Streicher im Finalsatz vor und beginnen den Dialog mit dem Klavier. Das Klavier übernimmt dann die Leitung und führt das Orchester bis zum strahlenden Schluß. Die Uraufführung des Konzerts mit Beethoven als Klaviersolisten war am 22. Dezember 1808 in Wien.
Klavierkonzert Nr. 5:
Mit einem kraftvollen Akkord des Orchesters beginnt das letzte der Beethovenschen Klavierkonzerte. 1810 in Leipzig uraufgeführt, setzt es sich mit seiner majestätischer Größe (Beiname "Emperor") über vorangegangene Werke hinweg. In weiten Teilen wird dieses Konzert vom Solisten beherrscht. Beethoven war ein exzellenter Pianist und war zu seiner Zeit berühmt wegen der Fähigkeit des freien Phantasierens und Improvisierens. Diese Erfahrungen hat er in die Komposition einfließen lassen, wirkt der Klavierpart doch oft wie eine besonders gelungene Improvisation. Einen besonderen Spannungseffekt finden wir im Schlußsatz: Pauke und Klavier "unterhalten" sich. Als dieses Gespräch einzuschlafen droht, brechen aus dem Klavier plötzlich ganze Oktavsalven heraus und das Konzert endet im grandiosen Jubel des fulminant einsetzenden Orchesters.
BEETHOVEN Klavierkonzerte Solomo
Data sheet
Komponist

Beethoven, Ludwig van (1770 - 1827)

Edition

101 Classics Collection

Epoche

Wiener Klassik & Vorklassik

Künstler

Solomon - Philharmonia Orchestra, Herbert Menges, André Cluytens

Werk

Klavierkonzerte (Historische Gesamtaufnahme - REMASTER 2020)