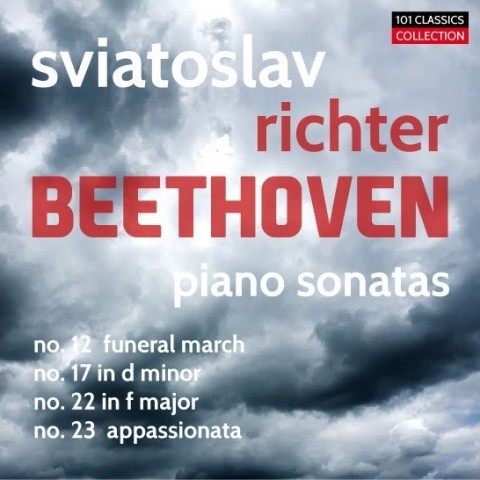  
BEETHOVEN Klaviersonaten Nr. 12, 17, 22 & 23 "Appassionata" - SVIATOSLAV RICHTER
Musik-Album im MP3-Format
Gesamtlänge: 1:16:50 h
MP3-Bitrate: High Quality (besser als 220 kbit/s)
Bildnachweis: Michael Osterrieder/Shotshop.com
Ruhe, Tragik und Zorn. Ein Beethoven mit leidenschaftlichen und unversöhnlichen Ausbrüchen
Der 1. Satz beginnt ganz leise und nimmt erst allmählich Tempo auf. Im weiteren Verlauf besticht er mit ständiger Auftürmung, Steigerung und Verbindung der Beethovschen Ideen zum leisen Thema des Anfangs. Nach diesen leidenschaftlichen Ausbrüchen wirkt der langsame 2. Satz mit seinen träumerischen Variationen fast wie eine Erlösung. Doch das ist nur die Ruhe vor dem Sturm: Ohne Übergang brechen im 3. Satz wahrlich heftige, brutale Harmonien über den Zuhörer herein. Kämpferisch, leidenschaftlich und unversöhnlich endet dieses außergewöhnliche Meisterwerk.
Der große russische Pianist Sviatoslav Richter paßt sich in seiner Interpretation hervorragend der jeweiligen Stimmung des Werkes an; nachdenklich und forschend in den langsamen Passagen und mit hartem, stählerndem Anschlag für die wilden und leidenschaftlichen Momente. So entsteht die für dieses Werk so wichtige Mischung aus Ruhe, Tragik und Zorn.
"Hier erweist er sich nun auch als ein eminenter Beethoven Spieler. Dabei tut er eigentlich nichts weiter als eben nur den Beethoven zu spielen, so wie er ist. Er spielt keinen russischen Beethoven und auch keinen deutschen Beethoven. Aufschlußreiche Kriterien für den Geist einer Beethoven Interpretation sind immer die langsamen Sätze, die man meist so besonders weltanschaulich tief und aufgelöst empfindsam glaubt auskosten zu müssen. Die Wiedergabe von Richter zerstört restlos diese Einstellung, er löst die innere Kraft Beethovens, indem er ihn einfach, aber mit einer untrüglichen und unbeirrbaren Treffsicherheit für die von Beethoven festgelegten Ausdrucksmomente spielt. Er überläßt Beethovens Musik ihrer selbsttätigen Intensität und Ausdrucksgewalt. Und dies ist allein nur möglich mit den Mitteln einer vollkommenen Technik, die weiß, was sie zu tun hat, und deshalb nicht kalt mechanisch wirkt. Und die atemberaubende Rasanz, mit der Richter die Schlußsätze ablaufen läßt, bleibt dann nicht nur Ausdruck einer auf äußeren Effekt zielenden virtuosen Brillanz, sondern scheint allein getrieben von der inneren musikalischen Bewegung"  (Fono Forum)
"The sonatas are Op. 26 (Funeral March) and Op. 57 (Appassionata) and they are superb, from the strongly characterized variations that open Op. 26 to the fantastic speed and control of the finale of Op. 57. In the scherzo of the earlier sonata Beethoven's outbursts come out as explosively as they might on an orchestra, while the hard-hitting drama of the middle section of the funeral march makes the return of the soft opening the more poignant. The first movement of Op. 57 is appassionata indeed, ranging from an extremely slow speed and soft tone to outbursts violent. Richter's is, of course, only one way of playing Beethoven; but its interpretative and technical qualities are of such an order - every bit means so much - that the result is a revelation" (GRAMOPHONE)
BEETHOVEN Klaviersonaten Nr. 12,
Data sheet
Komponist

Beethoven, Ludwig van (1770 - 1827)

Edition

101 Classics Collection

Epoche

Wiener Klassik & Vorklassik

Künstler

SVIATOSLAV RICHTER

Werk

Klaviersonaten Nr. 12, 17, 22 & 23 "Appassionata"
Customers who bought this product also bought: