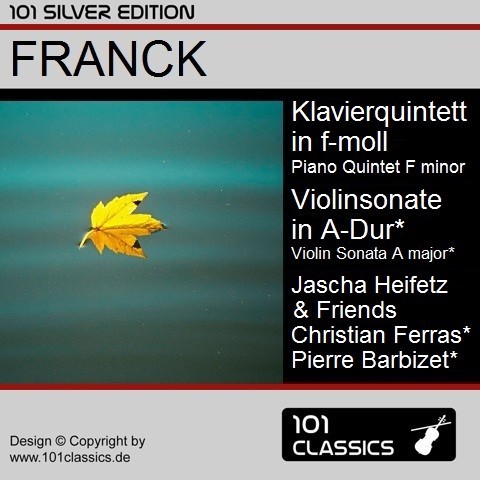  
FRANCK Klavierquintett in f-moll - Jascha Heifetz & Friends + Bonus: Violinsonate in A-Dur
Musik-Album im MP3-Format
Gesamtlänge: 59:01 min
MP3-Bitrate: High Quality (besser als 220 kBit/s)
Diese Aufnahme wurde ausgezeichnet mit dem "GRAMMY AWARD" (Klavierquintett)
Bildnachweis: birdy/Shotshop.com
Klavierquintett: Beginn mit Pathos
Nach dem pathetischen Anfang der Streicher erzeugt das Klavier eine sentimentale und elegische Stimmung. Solche Kontraste, verstärkt noch durch die für Franck typischen Modulationen, durchziehen die ganze Komposition bis zum lebhaften Finale.  
"Time and time again the precision of the playing and its musical qualities reveal facets of the work almost unsuspected and unseen. Pennario's fine playing of the Franck has something of this effect for the rightly penetrates below the surface of this misunderstood composition. In it Francks's true feelings appear, if the player knows how to reveal them, and in this performance there is no doubt about the stature of the Quintet"(Denis Stevens, GRAMOPHONE)
Violinsonate: "Ein Gedanke, der sich aus Klangwellen erhebt" (Marcel Proust)
Um dem Übergewicht der deutsch-österreichischen Instrumentalmusik zu begegnen, gründeten französische Komponisten 1871 die "Societé National de Music". Kammermusik und Solokonzerte junger französischer Komponisten sollten gefördert werden. Besonders gelang es mit der Violinsonate des Gründungsmitglieds Cesar Francks (einem Belgier !), die es mit den besten Kammermusikkompositionen etwa eines Johannes Brahms aufnehmen konnte. 
Der Aufbau der Sonate überrascht: Den ersten Satz beginnt das Klavier mit langsamen stufenartigen Akkorden. Die Violine gewinnt daraus ein romantisch schwebendesThema, wie "ein Gedanke, der sich aus Klangwellen erhebt" (Marcel Proust). Diesem folgt ein temperamentvolles Allegro nach. Wie eine freie, nachdenkliche Improvisation wirkt der dritte Satz (Recitativo-Fantasia). Die melancholische Stimmung löst sich im Schlußsatz auf, in hellem A-dur erklingt der freudige Gesang der Violine und beendet die Sonate energisch und elegant.
FRANCK_Klavierquintett_Violinson
Data sheet
Komponist

Franck, César (1822 - 1890)

Edition

Silver Edition

Epoche

Romantik

Künstler

Jascha Heifetz & Friends - Christian Ferras, Pierre Barbizet

Werk

Klavierquintett in f-moll - Violinsonate in A-Dur

Auszeichnungen, Referenzen

GRAMMY AWARD (Klavierquintett)
Customers who bought this product also bought: