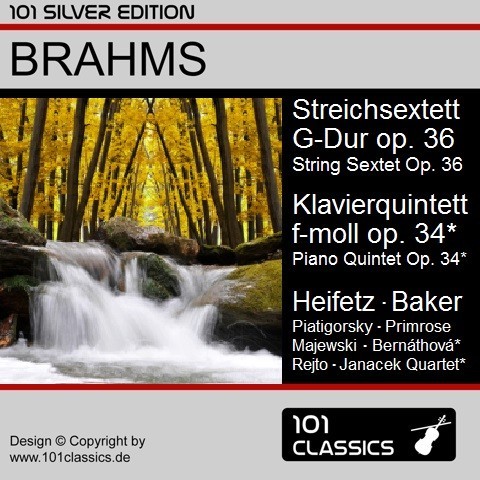  
BRAHMS Streichsextett op. 36 - Jascha Heifetz - Gregor Piatigorsky u. a. + Bonus Klavierquintett op. 34
Musik-Album im MP3-Format
Gesamtlänge: 1:10:41 h
MP3-Bitrate: High Quality (besser als 220 kBit/s)
Diese Aufnahme wurde ausgezeichnet mit dem "GRAMMY AWARD" (Streichsextett)
Bildnachweis: vencav/Shotshop.com
Streichsextett op. 36: "Variationen über kein Thema" (Eduard Hanslick)
Als Brahms 1865 das Streichsextett op.36 nacheinander den namhaften Verlagshäusern Simrock bzw. Breitkopf & Härtel anbot, fand es wenig Begeisterung. Zu exotisch war die Besetzung mit zwei Violinen, zwei Violen und zwei Violoncelli und zu wenig prägnant erschien das unscheinbare Violenmotiv des erstes Satzes. Nach der Veröffentlichung wurde es aber schnell zu einem Verkaufserfolg und verhalf dem Komponisten zum internationalen Durchbruch. 
"The Brahms G major Sextet, full of harmonic felicities characteristic of the composer's younger days, needs exactly the kind of performance it gets here: strength and suppleness, moments of tenderness and meditation" (GRAMOPHONE)
Klavierquintett op. 34: Im dritten Versuch
Johannes Brahms hatte keinen Mangel an Ideen für seine Kompositionen. Es fiel ihm aber manchmal schwer, dafür die richtige Besetzung zu finden. So gingen dem Klavierquintett op. 34 Fassungen als Streichquintett bzw. als Sonate für zwei Klaviere voraus. Im Jahre1864 war es aber dann vollbracht, die Endfassung als Quintett für Klavier, zwei Violinen, Viola und Violoncello lag vor und begeisterte: "Das Quintett ist über alle Maßen schön; wer es nicht unter den früheren Firmen: Streichquintett und Sonate gekannt hat, der wird nicht glauben, dass es für andere Instrumente gedacht und geschrieben ist" schieb der befreundete Dirigent Hermann Levi an Brahms.

Voll grimmiger Entschlossenheit und mit leidenschaftlichen Dialogen zwischen Klavier und Streichern beginnt der erste Satz. Wie hier wird die gesamte Komposition von dunklen Stimmungen geprägt. Anders als bei Beethoven setzt sich aber nicht das Licht durch. Bis zum Schluß bleibt die Tragik erhalten. Nach einem wilden Aufbäumen im Finale endet das Stück düster.
BRAHMS_Streichsextett_Klavierqui
Data sheet
Komponist

Brahms, Johannes (1833 - 1897)

Edition

Silver Edition

Epoche

Romantik

Künstler

Jascha Heifetz, Gregor Piatigorsky u. a. / EVA BERNATHOVA & JANACEK QUARTET

Werk

Streichsextett op. 36 - Klavierquintett In A-Dur Op. 81

Auszeichnungen, Referenzen

GRAMMY AWARD (Streichsextett)
Customers who bought this product also bought: