 
BACH Violinkonzerte Nr. 1-3 BWV 1041-1043 - David & Igor Oistrach - Wiener Symphoniker u. a. - EUGENE GOOSSENS
Musik-Album im MP3-Format
Gesamtlänge: 51:37 min
Diese Aufnahme wurde empfohlen von "100 Classical GRAMOPHONE: The 100 Greatest Classical Recordings of All Time"
Bildnachweis: lianem/Shotshop.com
Auf Vivaldis Spuren
Bachs Konzertstil wurde stark von den Violinkonzerten Antonio Vivaldis inspiriert. Bach entwickelte diese Konzertform aber weiter, Solo- und Orchesterpart sind stärker miteinander verwoben, das Repertoire an prägnanten Melodien ist reichhaltiger. 
BACH Violinkonzert Nr. 1 in a-moll BWV 1041
Das Konzert in a-moll wirkt kraftvoll und energisch und hat im Schlußsatz besonders virtuose Aufgaben für den Solisten. 
BACH Violinkonzert Nr. 2 in E-dur BWV 1042
In diesem Konzert stehen Optimismus und Lebensfreude im Mittelpunkt. Bach komponierte es um 1720 während seiner glücklichen Zeit beim kunstsinnigen Fürsten Leopold in Köthen. 
BACH Doppelkonzert für 2 Violinen und Orchester BWV 1043
Das Entstehungsjahr dieses Werkes ist unklar. Lange Zeit ging man davon aus, das dieses Konzert für 2 Violinen und Orchester 1718 während Bachs Zeit als Hofkapellmeister beim Fürsten Leopold von Anhalt-Köthen entstand. In dieser Zeit am Hof des Fürsten hatte der Komponist beste Bedingungen, da der kunstsinnige Fürst Bach förderte und unterstützte. So konnten viele der bedeutendsten Werke Bachs während dieser Zeit in Köthen entstehen. Mittlerweile deutet einiges daraufhin, daß das Doppelkonzert viel später, nämlich erst um 1730 während seiner Zeit mit dem Collegium Musicum in Leipzig entstand. Aber auch diese Zeit war für Bach eine glückliche, da er dort mit vielen talentierten Jungmusikern, u.a. auch mit seinen Söhnen arbeiten konnte. Und Glück und Freude ist in diesem wunderbaren und beliebten Doppelkonzert zu spüren, welches u.a. mit einem der schönsten langsamen Sätze der Musikgeschichte begeistert. Außerdem bietet sich hier für die Violinsolisten sogar die Möglichkeit zu zweit zu spielen: Nachdem gleich von Beginn an die Orchesterviolinen rasche, rhythmische Fahrt aufnehmen, überrascht die bald einsetzende erste Solovioline mit einem eigenwilligen Thema, um sich dann dabei mit dem zweiten Solisten abzuwechseln. Im wunderschönen zweiten Satz, dem "Largo", spielen die nacheinander einsetzenden Solisten jeweils ein lyrisches, poetisches getragenes Thema.
Vater und Sohn Oistrach erreichen mit ihrem Spiel eine bemerkenswerte Verwobenheit, die dem Zuhörer "unter die Haut" geht. Sie betonen so die lyrischen Aspekte des Stückes. Auch im schnellen dritten Satz dem "Allegro" bleiben sie dieser Linie treu und erfreuen in ihrer Interpretation mit Tonschönheit und harmonischen Violinspiel.

"These are strong, warm performances which bring out both the sweetness and purity of Oistrakh playing, not least in the rapt accounts of the slow movements" (GRAMOPHONE)
Bach-Violin-Concertos-Oistrakh-G
Data sheet
Komponist

Bach, Johann Sebastian (1685 - 1750)

Edition

101 Classics Collection

Epoche

Barock

Künstler

David & Igor Oistrakh (Doppelkonzert) - Royal Philharmonic Orchestra, Eugène Goossens - Wiener Symphoniker

Werk

Violinkonzerte Nr. 1-2 BWV 1041-1042, Doppelkonzert BWV 1043; Violin Concertos BWV 1041-1042, Double Concerto BWV 1043
You might also like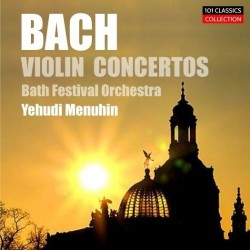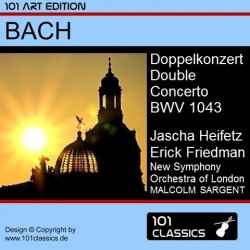 Customers who bought this product also bought: